Girls Get IT! A Love for STEM, a Dedication to Pass It On
Date published:
Wednesday, September 18, 2013
Girls Get IT! was featured in the Huffington Post through Intel's Inspiring Girls podcast series in a podcast called, Girls Get IT! A Love for STEM, a Dedication to Pass It On.
When Savannah Loberger was in the 5th Grade, two things happened. The first is that she had an extraordinary teacher, Ms.Lasky. "She encouraged the whole class to love science and really explore and have fun with it. She reinforced what my parents taught me, that it's definitely ok to be smart, it's actually encouraged!"
The second thing that happened was that Savannah's Mom signed her up to a Girl Scout robotics day camp that changed her life.
"The first time I made a robot move and do what I tell it to do, well, it was an amazing experience, to have that sense of accomplishment that, wow, this can actually be used in real life. When you type in something on the computer and the robot then moves and will reach out and sense you being there and react and respond to you, that's when it clicked that engineering can be used to transform the world and really make a difference around you."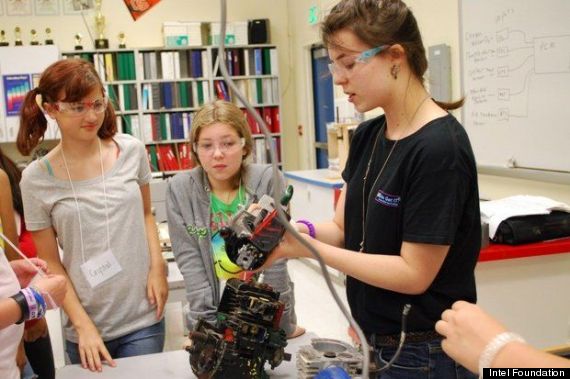 After seeing how STEM could make such a huge impact, Loberger was inspired to offer that same experience to the girls around her. So three years ago, at the age of 15, she started a summer camp for girls called Girls Get IT. As the oldest of five children and growing up in a military family, she did not necessarily have science role models. What she did have however is the support from her parents, and turns out that's all she needed.
"I never had any boundaries on what I thought I could do. The stereotype of girls not being in engineering, I just never thought they applied to me I guess."
Today, Girls Get IT is a thriving summer camp that has been growing exponentially every year. The girls learn everything from soldering to game making but maybe most importantly, they break boundaries within themselves and challenge stereotypes in society, realizing that they can do things they never thought they could. The most rewarding part for Savannah is seeing the transformation that happens in the girls and witnessing how they come to see just how smart and capable they are.
Girls Get IT caught the attention of many organizations and universities across the US, including The Intel Foundation, which has contributed to Girls Get IT both financially and emotionally. As Savannah says, "I can tell that I'm valued...That has been key in being able to continue doing what I do."
In this podcast, you will hear from Savannah, sharing her motivations and experiences with Girls Get It, accompanied by her sister Ashley, who is a camp counselor, and like her sister, a believer in the power of role modeling to dispel myths and fuel self-determination.