Alaska
Did you know Girls Get IT! has a camp in Alaska?
Founded in 2018, Girls Get IT! Alaska continues encouraging girls and building confidence!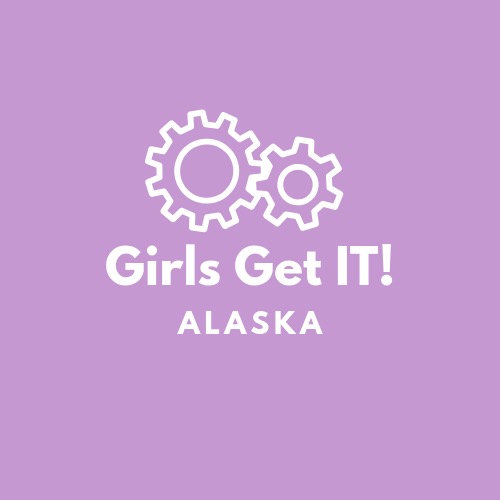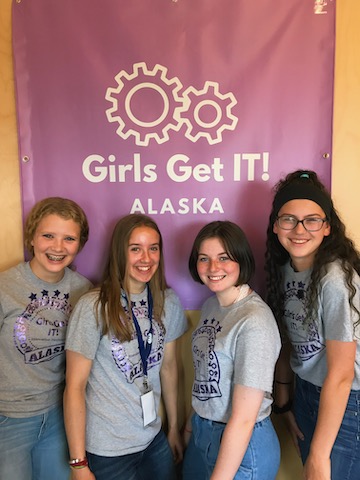 The GGIT! Alaska teachers from left to right: Olivia, Fiona, Neviya, Delilah
Olivia
Camp Director 2018, 2019
When Olivia is not soldering leds, writing HTML, or making grapes glow, you could find her somewhere outside; playing sports, traveling, camping, or hiking. Olivia loves to play basketball and soccer with her friends. She has played the guitar for nine years and her favorite song to play is Blackbird by the Beatles. Olivia is also a huge fan of listening to music, her music library spreads many genres. She knows some American Sign Language and would be happy to teach you some signs if you asked. Furthermore, it wouldn't be crazy to suggest Olivia is single handedly keeping bookstores in business. Olivia is an NCWIT Aspire IT Affiliate Award Winner for 2019 and 2018. Following Savannah and Ashley Loberger's example, she started a Girls Get IT! Camp in Homer, Alaska with her friends. This year will be the third annual GGIT Alaska. She is passionate about making the field of STEM (and the world) more equitable for all people and is so proud of her team for making GGIT happen all the way in small Homer Alaska. Her favorite area of STEM is Artificial Intelligence.
Delilah
Teacher 2018, 2019
Delilah loves sports; she plays softball and basketball along with coaching learn-to-skate hockey. Delilah loves to hike, ski and just generally be outdoors. This will be her third summer working with the GGIT! camps and she absolutely loves them, they are such an amazing way to teach girls about technology and open them up to the world of STEM. Her favorite part about STEM is how many things it encompasses, from robotics to circuits, there is always a fun new project to do.