About Us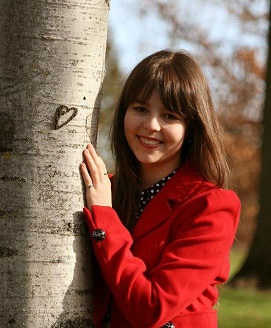 Savannah Loberger
Founder, Camp Director 2011-2013, 2018
Savannah is currently a student in the engineering program at Oregon State University. Through high school she was the co-captain and then captain of the FLL and FTC robotics team, she was President of the STEM club, earned honors in electronics technology, and served as the only high school student on the Oregon Governor's STEM Task Force. As a Gold Award recipient Savannah has earned the highest award in Girl Scouts and continues scouting as an assistant leader for a troop. Most of her time now is spent with her classes and job at the College of Engineering's computer help desk. She has interned at Intel in various roles such as a network programmer and market engineer. Her interests include cooking and baking yummy foods, big data, all things robotics related, swimming, and technology education.
She is passionate about getting girls involved in STEM and does continuous outreach including with a summer camp program she started back in 2011 called Girls Get IT! (Innovative Technology). Girls Get IT! has also been awarded various grants through the Aspire IT program under NCWIT. Another role she actively takes part as is an avid speaker for STEM including as a keynote speaker at the Oregon Business Leadership Summit and did a podcast for the Huffington Post. Savannah's plans after undergraduate studies is to join a PhD program focusing on bioinformatics or bio-medical devices. Another aspiration of hers is to become a technology teacher to inspire kids as she once was.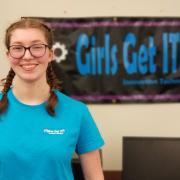 Rachel
Camp Director 2019, 2020 Teacher 2015, Intern 2014
Rachel has been on robotics teams since she was in 2nd grade. As team captain, she has led her teams to State competitions, and an invitation to World's. She likes to CAD model and build robots on her FTC and FRC robotics teams. Rachel enjoys sports as much as STEM; she has been playing waterpolo for over 3 years, and loves to swim. Rachel loves to read and her favorite subject in school is math. She is a Gold Award Girl Scout and likes to help out within the community. Rachel is an NCWIT Aspirations in Computing award winner. She is passionate about sharing STEM with others and wants to pursue Engineering as a career to continue inspiring the next generation.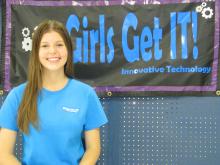 Ashley
Camp Director 2014, 2015, 2018, Teacher 2012, 2013
Outside of Girls Get IT! Ashley plays softball, runs cross country, and is on the swim team. Ashley is involved in Girl Scouts, robotics, National Honor Society and Key Club. She is an NCWIT Aspirations in Computing Award Winner with which she applied and won an Aspire IT grant for this program. She enjoys her technology classes at school and her focus program of study is drafting. Ashley attended the first year of Girls Get IT! and became a teacher the following year. She loves teaching GameMaker, computer aided design, soldering and Arduino. Ashley has a passion for STEM and she loves giving girls who have not had the opportunity to experience STEM, the environment to feel confident in their own abilities.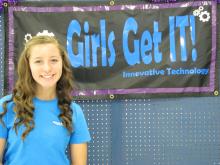 MaryCatherine
Camp Director 2015, Teacher 2013, 2014
MaryCatherine runs track and cross country and is the leader of a newly created tech club. MaryCatherine is also very involved in Girl Scouts. During the summer, in addition to teaching at Girls Get IT!, she is a track coach. MaryCatherine is a NCWIT Aspirations in Computing award winner.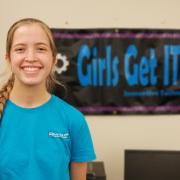 Jessica
Teacher 2019, 2020
Jessica plays two instruments since she was young; Viola and trumpet. She actively participates in the marching band and the local Youth Orchestra. During school, she enjoys playing in Wind Ensemble and singing in Concert Choir. After school, she loves working with the Liberty High School robotics team, AEMBOT. She is in both the FRC and FTC team and loves to further her knowledge about robots and CAD Modeling. She volunteers often because she wants people to get excited about STEM just like she does. She loves the feeling of helping others and teaching them new things. Her favorite class to teach is CAD Modeling because it's exciting to allow the girls to go in different paths as to what they want to design and see their creativity thrive. Jessica is looking forward to the future of how she can next impact the STEM community.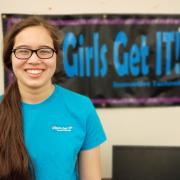 Grace
Teacher 2019, 2020
Grace has been an active member in AEMBOT, the Liberty Robotics team, which is where she first heard of GGIT! and BBIT! As part of AEMBOT she has worked in outreach to bring STEM to younger students and all ages of the community by speaking in Maker Fairs and Famer's Markets. In the classroom Grace has concentrated on engineering classes and AP programs. She also enjoys hiking, reading and playing with her cats.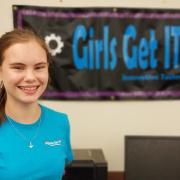 Alannah
Teacher 2019, 2020
Alannah has been involved with robotics and STEM projects since Elementary school. Since then, she has developed a love for STEM and the opportunities it holds. Alannah loves helping others and volunteering, outside of Girls Get IT! she is involved with the Hillsboro Youth Advisory council, her school's student-lead robotics team, and helps to run the OBOB (Oregon Battle of the Books) team. Alannah Irish dances, and reads as many books as she can get her hands on. She is very interested in medical science and plans to pursue that as a career.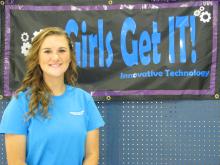 Erika
Teacher 2012-2015
Erika loves to play softball and is involved in Girl Scouts. She is passionate about Student Government and enjoys playing a part of leadership at her high school. Erika's favorite class to teach at Girls Get IT! is robotics. The robot flash mob is always one of her highlights of the camps!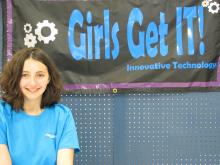 Alexa
Teacher 2013, 2014
Alexa participates in the international baccalaureate program, and has taken multiple technology classes as electives. Outside of school she enjoy rock climbing, roller skating, taking long walks and petting her nine pets. She enjoys traveling and visiting family across the sea. Overall, she enjoy being able to work on projects that she believes will make a positive impact on her community while being surrounded by bright, kind and funny people.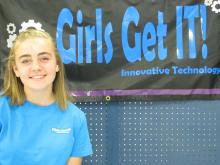 Madi
Teacher 2013, 2014
Madi is an active Girl Scout and loves to play volleyball and softball. Her favorite class to teach at Girls Get IT! is robotics and HTML. Madi loves seeing the creativity that the campers bring to their websites that they design themselves. When she grows up, she knows that she will use her knowledge of technology to help her in her future career.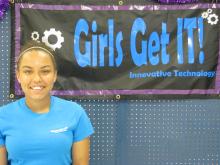 Victoria
Teacher 2015, Intern 2014
Victoria runs cross country and track and has played basketball. She volunteers often because she wants to see her community thrive, and she loves the feeling of helping others. Victoria's favorite place to volunteer has been Girls Get IT! Her favorite class to teach is SolidWorks because it's fun to allow the girls to go in different directions as to what they want to design. She loves that she can empower girls who are close to her age, knowing that they are very much alike. An interesting fact about her is that her eyes change colors and she loves cooking! Although Victoria is not certain as to what career she'd like to pursue, she does know that some sort of engineering will be involved.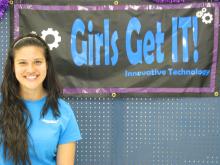 Perla
Intern 2014
When Perla was growing up, she knew she wanted to become an engineer but didn't know where to start until she took technology classes where her teacher, first introduced her to Girls Get IT! She attended the summer program as a camper and is now a teacher. Everything started with a promise and now she is involved in Girl Scouts and had an internship at Digimarc. All thanks to Girls Get IT! she developed skills that will help her fulfill her dreams of becoming an engineer.